Brave CF 35: Luan Santiago set to fight Issa Isakov at the event
28 February 2020
The former BRAVE CF Lightweight world champion Luan "Miau" Santiago is scheduled to make his comeback at home in March when the promotion returns to Brazil for a record-tying fifth time. Santiago will face tough competition in his homecoming bout, as he takes on Belgium's prospect Issa Isakov.
One of the most active athletes in the entire BRAVE CF roster, Luan Miau is going for his eighth bout under the Middle East premier promotion's banner. Coming off a win over Gadzhimusa Gaziev last November in Bahrain, Santiago boasts a professional record of 15 wins and only 4 losses.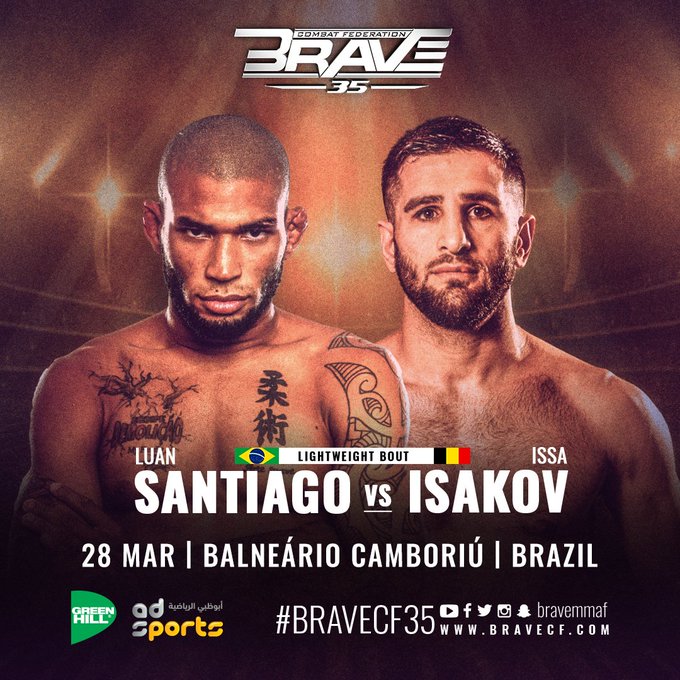 Coincidentally, Issa Isakov made his professional debut just a couple of months before Miau's last bout but that doesn't mean the Belgian striking artist didn't manage to keep up, with a 5-1 record against high-level competition, including an impressive submission win over Rami Hamed in his BRAVE CF debut.
In addition, Isakov was one of the most accomplished amateur athletes in recent IMMAF history, with several medals won in continental and World Championships, alongside an impressive 15-4 amateur record.
Luan Santiago vs Issa Isakov will take place at BRAVE CF 35, on March 28th, 2020 in Balneário Camboriú, an event marking the fifth time the fastest-growing MMA organization in the world hosts an event in Brazil. The country will become the number one home of BRAVE Combat Federation alongside the Kingdom of Bahrain.
The show, the first promoted by the Bahrain-based promotion outside of Curitiba and Belo Horizonte in Brazil, is headlined by Cleiton "Predator" making the first defence of his Lightweight title against Sweden's Guram Kutateladze. 
---
More from LockerRoom:
Brave CF 36: Shoaib Yousaf vs. Tae Kyun Kim added to the fight card
Brave CF Flyweight Tournament: Marcel Adur vs. Malcom Gordon set for Brave CF 35
Brave CF Flyweight Tournament: Jose Torres to fight Matheus Nicolau
LEAVE A COMMENT
Please login to leave a comment