Brave CF Flyweight Tournament: Jose Torres to fight Matheus Nicolau
25 February 2020
The BRAVE CF Flyweight tournament, that will decide the first-ever world champion up to 57kg in the world's fastest-growing MMA promotion, is set to be one of the most closely fought, action-packed till date and the first bout announced denotes it. BRAVE CF officials confirmed that Jose "Shorty" Torres will face Matheus Nicolau in the quarter-finals.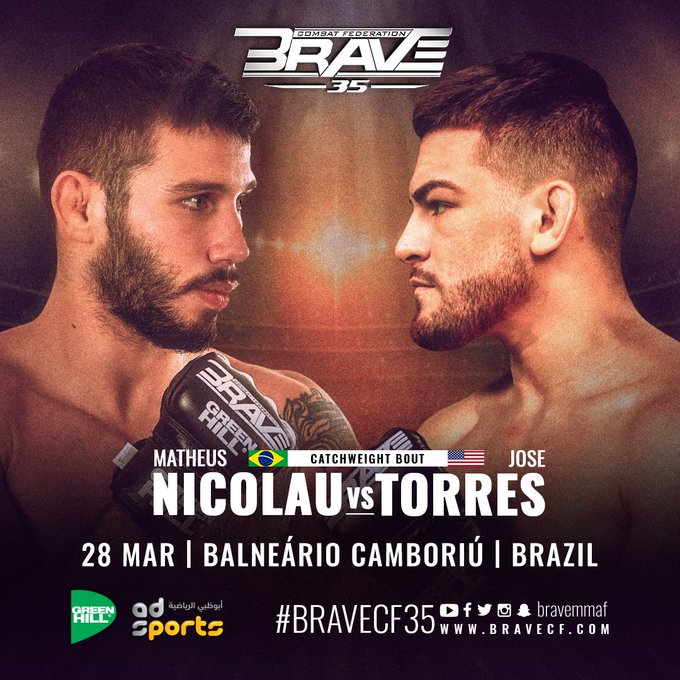 The match between Torres and Nicolau, two UFC veterans with tons of international experience, will be held during the BRAVE CF's next trip to Brazil, thus giving Matheus Nicolau the home-field advantage. BRAVE CF 35 will take place on March 25th, in Balneário Camburiú, state of Santa Catarina.
With 10 professional fights under his belt, Jose Torres has nine wins and only one loss. In his last appearance, last April, Torres beat Amir Albazi via unanimous decision in Jordan. The two-time IMMAF Amateur World Champion was supposed to fight for the BRAVE title in Bahrain, six months later, but ended up withdrawing less than a week prior to the fight due to personal issues.
A veteran of the reality show The Ultimate Fighter Brazil season 4, Matheus Nicolau boasts a professional record of 14 wins, two losses, and one draw. The Brazilian made his BRAVE debut last August, with a win against his fellow-countryman Felipe Efrain in a Bantamweight bout. Nicolau now moves down to his original division, up to 57kg, aiming to capture BRAVE's inaugural world title.
BRAVE CF 35 will take place on March 25th, 2020 and marks the fifth time the fastest-growing MMA organization in the world hosts an event in Brazil. The country will become the number one home of BRAVE Combat Federation alongside the Kingdom of Bahrain.
The show is headlined by Cleiton "Predator" making the first defence of his Lightweight title against Guram Kutateladze.
---
More from LockerRoom:
Brave CF announces Flyweight Tournament, Satya Behuria could represent India
Brave CF 37: Hamza Kooheji set to make his return against Jaures Dea
Brave CF 35: Guram excited by the prospect of fighting Cleiton in Brazil
LEAVE A COMMENT
Please login to leave a comment