Brave CF 36: Shoaib Yousaf vs. Tae Kyun Kim added to the fight card
25 February 2020
Englishman Shoaib Yousaf and South-Korea's Tae Kyun Kim are the latest additions to the return of BRAVE Combat Federation to Romania, scheduled for April 13. Yousaf and Kim will meet in a Featherweight bout (up to 66kg).
Fighting out of Lancashire, England, Shoaib Yousaf is currently on a 5-win streak, including his successful BRAVE CF debut last December, when he submitted Hassan Talal in the second round with a rear-naked choke in Saudi Arabia. "The Assassin" holds a professional record of seven wins and only one loss.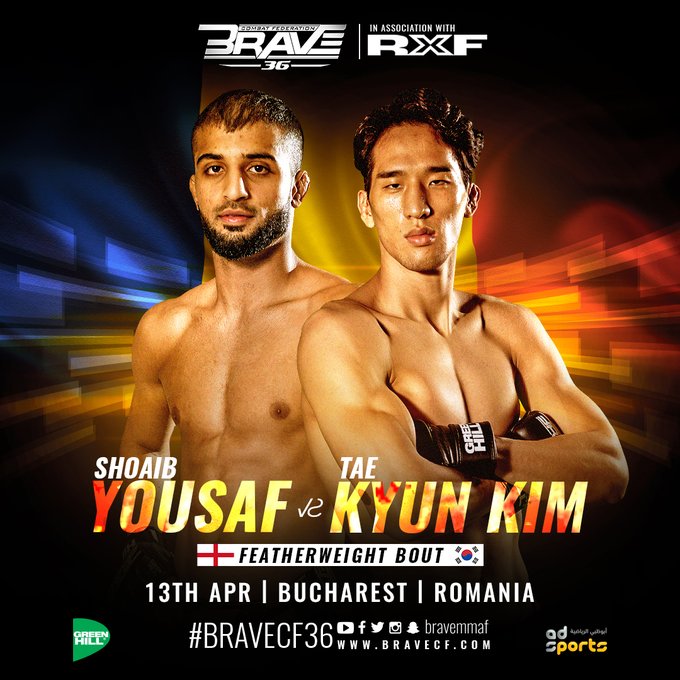 Still undefeated in his professional career, South Korea's Tae Kyun Kim had a meteoric rise since he made his debut in late 2017.
Roughly two years after his first time inside the cage, Kim was arriving at BRAVE CF, in the stacked Kingdom of Bahrain card, defeating Erick da Silva via unanimous decision, expanding his record to six wins and no losses.
BRAVE 36 will take place on April 13, in Romania, marking the second visit of the fastest-growing MMA promotion in the world to the Eastern-European country.
The card, promoted in partnership with local MMA powerhouse RFX, will be headlined by the Lightweight bout between England's Sam Patterson and New Zealand's John Brewin.
---
More from LockerRoom:
Brave CF Flyweight Tournament: Marcel Adur vs. Malcom Gordon set for Brave CF 35
Brave CF Flyweight Tournament: Jose Torres to fight Matheus Nicolau
Brave CF announces Flyweight Tournament, Satya Behuria could represent India
LEAVE A COMMENT
Please login to leave a comment