Brave CF Flyweight Tournament: Marcel Adur vs. Malcom Gordon set for Brave CF 35
25 February 2020
After announcing Jose "Shorty" Torres vs Matheus Nicolau as the first bout scheduled for its prestigious Flyweight tournament, BRAVE CF officials have confirmed that a match between Marcel Adur and Malcom Gordon will also be featured in the first round of the contest that will decide the promotion's very first World Champion up to 57kg.
The Flyweight clash will take place in Balneário Camburiú, Brazil, at the upcoming BRAVE CF 35 card.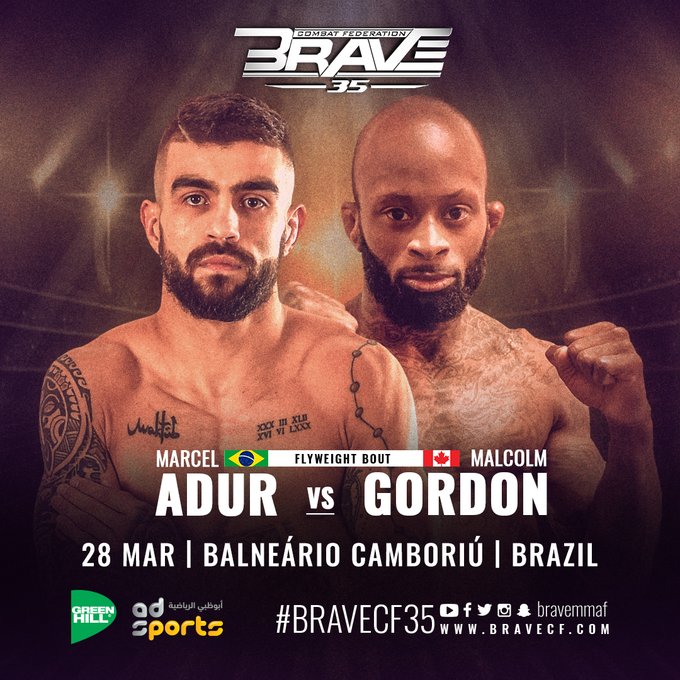 A long-time BRAVE CF veteran, Marcel Adur is going to his sixth appearance under the Bahrain-based banner. With a professional record of 15 wins and only 5 losses, Adur won 4 out of his 5 last bouts, including 3 TKOs.
With the Flyweight Tournament Adur will have his third shot at the BRAVE CF Flyweight title, with the Brazilian being denied the first two due to events beyond his control.
In 2018, the match against Velimurad Alkhasov ended up not being valid for the title after the Russian failed to make weight and in 2019 the fight against Jose "Shorty" Torres was cancelled last-minute after the American pulled from the card during the fight week.
Ranked #1 in the Flyweight division in Canada, Malcom "X" Gordon is set to make his BRAVE CF debut against Marcel Adur. The 29-year-old Calgary-born holds a professional record of 12 wins and three losses and is currently on a 4-win streak -- all of them via knockout or submission.
BRAVE CF 35 will take place on March 25th, 2020 and marks the fifth time the fastest-growing MMA organization in the world hosts an event in Brazil.
The country will become the number one home of BRAVE Combat Federation alongside the Kingdom of Bahrain. The show is headlined by Cleiton "Predator" making the first defense of his Lightweight title against Guram Kutateladze.  
---
More from LockerRoom:
Brave CF announces Flyweight Tournament, Satya Behuria could represent India
Brave CF Flyweight Tournament: Jose Torres to fight Matheus Nicolau
Brave CF 37: Hamza Kooheji set to make his return against Jaures Dea
LEAVE A COMMENT
Please login to leave a comment