Luan "Miau" Santiago's campaign paid off, and very quickly. Less than 24 hours after the former world champion led an invasion to the promotion's social media pages asking for the vacant challenger spot in the upcoming BRAVE CF 35 fight card, officials confirmed that a rematch between Miau and the champion Cleiton "Predator" Silva will headline the fight night on March 28.
Luan Santiago was previously scheduled to face Issa Isakov on the same night. The change of plans for the Brazilian, then, left the Belgium prospect without an opponent. BRAVE CF directors confirmed, however, that Isakov will still be paid his purse for the bout, in compensation for his unwanted withdrawal.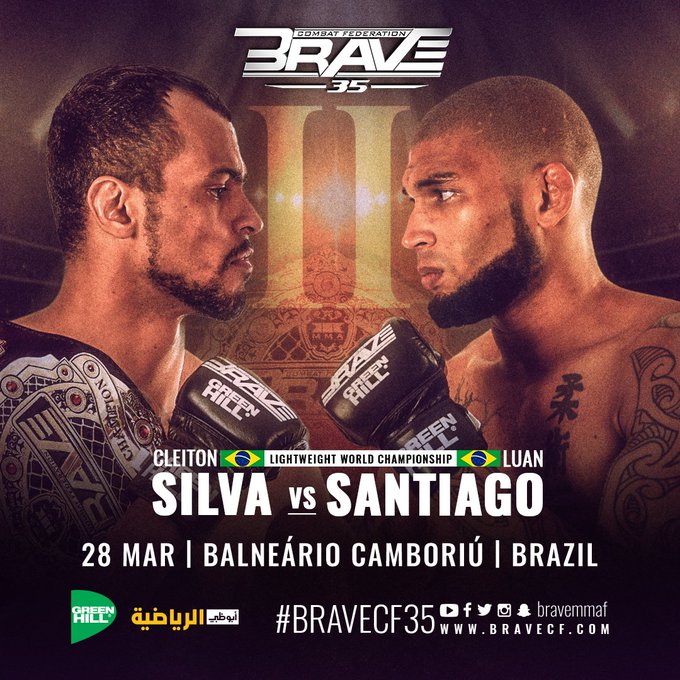 Cleiton Predator and Luan Miau's last encounter ended in a shocking submission by the Predator in the very first round, in front of his home crowd in Belo Horizonte, Brazil.
Since then, the champion is absent from the BRAVE CF Arena, waiting for his first title defense. Meanwhile, Miau bounced back a few months later, when he beat Gadzhimusa Gaziev in BRAVE CF 29, in Bahrain.
Before that, however, both men became stars in Brazil, as their thrash talk spilled into the biggest rivalry of the year in Brazilian MMA, as the BRAVE CF 25 became one of the most-anticipated shows of the year, a trend that is likely to repeat itself for BRAVE CF 35.
A former BRAVE CF Lightweight World Champion, Luan "Miau" Santiago holds a professional record of 15 wins and only 4 losses. The CM System athlete also has 11 finishes under his belt. The current BRAVE CF Lightweight World Champion Cleiton "Predator" Silva holds a pro record of 15 wins and only 2 losses. The Full House fighter is on a 3-win streak inside BRAVE Combat Federation and finished 11 of his bouts, with 7 TKOs and 4 submissions.
BRAVE CF 35 marks the fifth visit of the world's fastest-growing MMA promotion to Brazil and will take place on March 28, in Balneário Camboriú. The night will be co-headlined by the Super Lightweight match between Leonardo "Macarrão" Mafra and Carl "The Bomber" Booth.
The event will also count with the first two matches of the prestigious BRAVE CF Flyweight World Title Tournament, both valid for the Group A: Flávio de Queiroz vs Malcolm Gordon and Matheus Nicolau vs Jose "Shorty" Torres.
---
More from LockerRoom:
Exclusive: Luan Miau wants to take out 'fake champion' Cleiton Silva
Brave CF 35: Guram Kutateladze withdraws from title fight against Cleiton Silva
Brave Combat Federation launches first International Brave Gym in Lahore