Brave CF 35: Hamyrez Oliveira set to fight Eduardo Mora at the event
04 March 2020
A Bantamweight bout between Brazil's Hamyrez Oliveira and Colombia's Eduardo Mora was the latest addition to the packed BRAVE CF 35 fight card. The show will mark the return of the fastest-growing MMA promotion in the world to Brazil, country that's considered the organization's "second home".
With nine wins and three losses under his belt, Hamyrez Oliveira made waves in the local scene before drawing the attention of BRAVE Combat Federation. The Brazilian is currently on a two-win streak, both via submission, and looks to add the first international win to his record.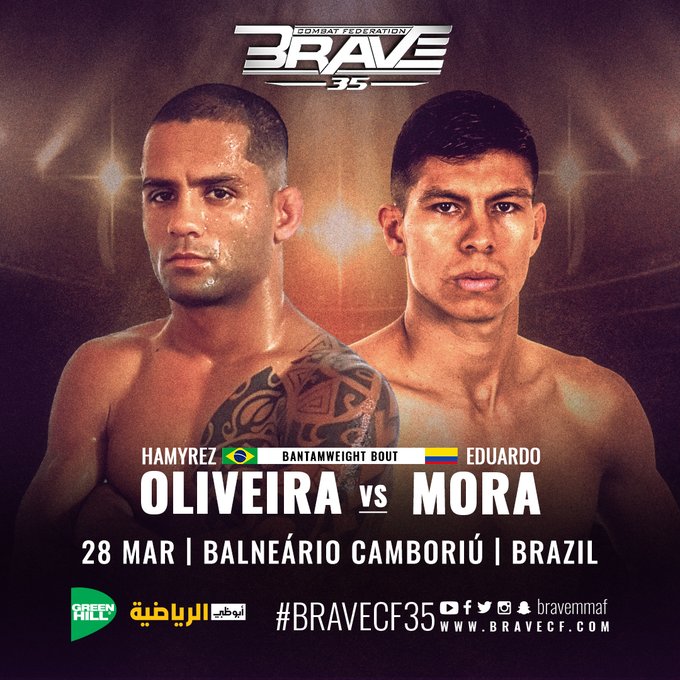 Colombia's Eduardo Mora holds a pro record of six wins and only two losses. Mora was one of the Colombian fighters awarded an international BRAVE Combat Federation contract after last year's BRAVE CF 26 in Bogotá. In the occasion, Mora made his promotional debut with a TKO win over his fellow countryman Juan Erazo.
BRAVE CF 35 takes place on March 28th, 2020 in Balneário Camboriú, marking the fifth time the fastest-growing MMA organization in the world hosts an event in Brazil. The South American country will become the number one home of BRAVE Combat Federation alongside the Kingdom of Bahrain.
The show, the first promoted by the Bahrain-based promotion outside of Curitiba and Belo Horizonte in Brazil, is headlined by Cleiton "Predator" making the first defense of his Lightweight title against Sweden's Guram Kutateladze. The card will also host the Group A fights of BRAVE CF Flyweight World Title Tournament: Marcel Adur vs Malcom Gordon and Jose "Shorty" Torres vs Matheus Nicolau.
---
More from LockerRoom:
Brave CF announces Flyweight Tournament, Satya Behuria could represent India
Brave CF Flyweight Tournament: Jose Torres to fight Matheus Nicolau
Brave CF 37: Hamza Kooheji set to make his return against Jaures Dea
LEAVE A COMMENT
Please login to leave a comment